De Oude Post
3 course Gault&Millau dinner
Restaurant Week

3 course Gault&Millau dinner

€28.50
During the National Restaurant Week, top restaurants offer a fantastic and also a very affordable surprise menu. An offer you don't want to miss!

Based on reviews restaurant De Oude Post has been selected as one of the top participating restaurants.

Would you like to enjoy the 3 course Gault&Millau dinner at restaurant De Oude Post for only €28.50?
Book your table now!
Please note. Seats are limited. Online reservations are mandatory.

Are there any dietary requirements? Please mention this on the reservation form so the restaurant can take this into account.
Reserve a table
Reserve a table
What 8 people say about De Oude Post
Write a review
---
Heerlijk gegeten, hele 3 gangen menu top! Vriendelijke bediening met verstand van lekker eten en goede wijnen
Wilma
at 19 September 2020
Verified
---
"Heerlijk verwend"
We hebben heerlijk gegeten bij Oude Post. Lekkere smaken, goed gecombineerd zonder de smaakpapillen te overdonderen. Mooi opgemaakte borden, met een toelichting van de kok zelf bij elke gang. Ook nog een prettig gesprek gehad met de broers die samen eigenaar zijn van het restaurant, over de geschiedenis van het pand en hun zaak.
Als we weer een keer in de buurt zijn komen we zeker terug.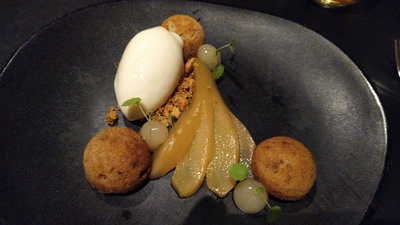 Karin Verlinde
at 14 September 2020
Verified
---
Uitstekend eten en zeer prettige bediening.
BF
at 13 September 2020
Verified
---
"Topavond"
We hebben weer super genoten van de creativiteit van Frank in de keuken en de bediening van Robert. Aan het eind van de avond nog een lekkere limoncello van de zaak om het helemaal goed af te sluiten. Een topavond dus!
Willy
at 13 September 2020
Verified
---
"Toppie!"
Wij werden zeer vriendelijk ontvangen. Het diner was super, elke gang was een plaatje om te zien en de smaaksensatie was geweldig. Wij vinden het zeker voor herhaling vatbaar.
Lydia
at 07 September 2020
Verified
Dorpsstraat 9 6871 AA Renkum
About De Oude Post
Since 2011 you can find restaurant Oude Post in quiet Renkum. The old post office of Renkum has been transformed into a beautiful restaurant where you can dine with friends and family.
Oude Post strives to serve the most delicious and surprising dishes. The dishes are prepared with the best quality ingredients. Everything is homemade as much as possible. At Oude Post, quality and hospitality are of paramount importance. Enjoy a relaxed atmosphere where you will immediately receive a warm welcome upon arrival.
Be surprised by the delicious culinary dishes of the restaurant Oude Post!
Reserve a table
Reserve a table